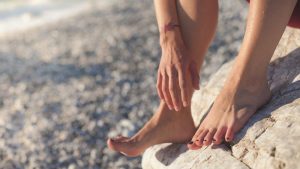 Our mission is to provide patients with expert quality care. Warmth and special attention to a patient's needs are at the core of our values. We strive to decrease pain and improve quality of life so our patients can continue doing what they love.
​
Dr. Nadia Shah has completed a 4 year medical training at the New York College of Podiatric Medicine. She completed an intense 3 year foot and ankle reconstructive surgical residency at Hoboken University Medical Center.
Dr. Shah is Board Certified with American Board of Podiatric Medicine. She is pursuing certification with the American Board of Foot and Ankle Surgery.
She holds certificates in Total Ankle Replacement Surgery and in Arthroscopic procedures of the foot and ankle.
​
Dr. Shah offers treatment for all foot and ankle pain. These include orthotics, bunions, hammer toes, calluses, neuroma, foot and ankle reconstructive surgery, trauma care and much more.
Dr. Shah provides care to all ages; pediatrics to geriatrics.​
---
The Practice is currently accepting most insurances.
Affiliations
Hospitals
Carepoint Health – Hoboken University Medical Center
Trinitas Regional Medical Center​
Surgical center
The center for Ambulatory Surgery
Universities
Robert Wood University Medical Center, New Brunswick, NJ