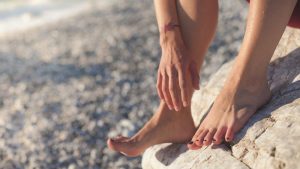 Our mission is to provide patients with expert quality care. Warmth and special attention to a patient's needs are at the core of our values. We strive to decrease pain and improve quality of life so our patients can continue doing what they love.
​
Dr. Nadia Shah has completed a 4 year medical training at the New York College of Podiatric Medicine. She completed an intense 3 year foot and ankle reconstructive surgical residency at Hoboken University Medical Center.
Dr. Shah is Board Certified with American Board of Podiatric Medicine. She is pursuing certification with the American Board of Foot and Ankle Surgery.
She holds certificates in Total Ankle Replacement Surgery and in Arthroscopic procedures of the foot and ankle.
​
Dr. Shah offers treatment for all foot and ankle pain. These include orthotics, bunions, hammer toes, calluses, neuroma, foot and ankle reconstructive surgery, trauma care and much more.
Dr. Shah provides care to all ages; pediatrics to geriatrics.​
---
Vani Manchanda, DPM, is honored and excited to begin working in New Jersey. A New England native, Dr. Manchanda grew up in Natick, Massachusetts. She received her Bachelors of Science in Biology and minor in Chemistry at Brandeis University in Waltham, MA and graduated Magna cum laude. She then went on to work as a research assistant and lab manager with Harvard affiliated Joslin Diabetes Center under the guidance of Dr. Serwold.
She was selected into Temple University School of Podiatric Medicine and awarded an Admissions Scholarship. Vani is a skilled podiatrist who specializes in all aspects of podiatric medicine and foot and ankle surgery, with an interest in diabetic limb salvage and wound care.
She completed her intern year in reconstructive foot and ankle surgery at LECOM Millcreek Communtiy Hospital in Erie, PA and then finished her training at Department of Veterans Affairs New York Harbor Healthcare.
In her free time, Vani enjoys dancing to Indian music, photography and mentoring students.
The Practice is currently accepting most insurances.
Affiliations
Hospitals
Carepoint Health – Hoboken University Medical Center
Trinitas Regional Medical Center​
Surgical center
The center for Ambulatory Surgery